Get A Healthier Lifestyle With Each Sip
2,000mg per serving (pure powders)

1,000mg per serving (DIRTEA Coffee)

DAKKS certified lab tested
---
Rated 4.9 based on 6,000+ reviews from coffee lovers

"I'm obsessed with DIRTEA! I can't live without them. Before filming I usually have a restless sleep but after DIRTEA Reishi I slept like a baby!"
Naomi Harris
How To Reset Your Self-Care Routine
Mushroom powders can supercharge your day. Get your DIRTEA blend in 3 easy steps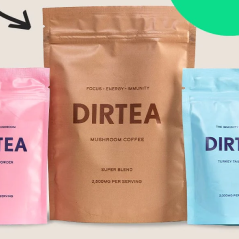 Place an order
Add the bundle to your cart, fill in your delivery info and use our secure checkout.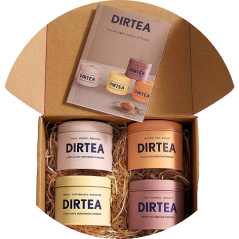 Receive your items
Sit back and relax while we deliver your DIRTEA package to your doorstep.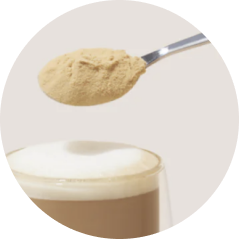 Enjoy a healthier lifestyle
Prepare your first drink to start your DIRTEA journey toward wellness.
Rated 4.9 based on 6,000+ reviews from coffee lovers
See What's In Each Mushroom Lifestyle Bundle
Discover the unique benefits of 3 mushroom powders
The Beauty Mushroom
Tremella (60g)
May hydrate skin
May have anti-ageing properties
Promotes natural collagen production
Learn more
Super Blend
DIRTEA Coffee
Increases energy levels without caffeine crash
Increases alertness and improves focus
Helps support the immune system
Learn more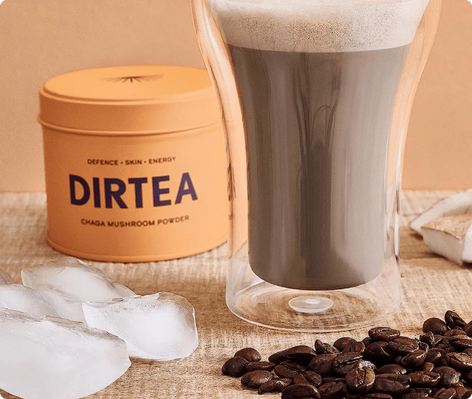 Take a holistic approach toward your wellness
The Mushroom Lifestyle Bundle offers a broad spectrum of health benefits, including immune support from Turkey Tail, beauty and anti-ageing properties from Tremella, and the energy and cognitive enhancement offered by the Coffee blend.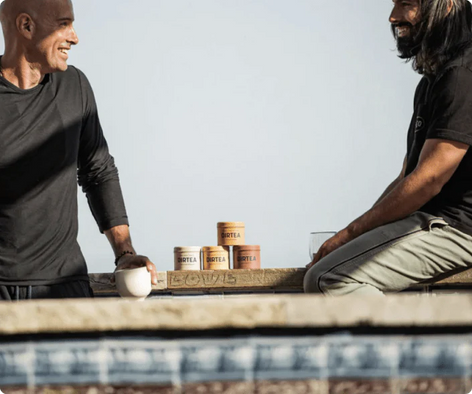 Save Money With A Steady Supply
Purchasing the Mushroom Lifestyle Bundle is more cost-effective than buying each of the Turkey Tail, Tremella, and Coffee mushroom powders separately. This not only saves money but also ensures a consistent supply of these health-boosting products.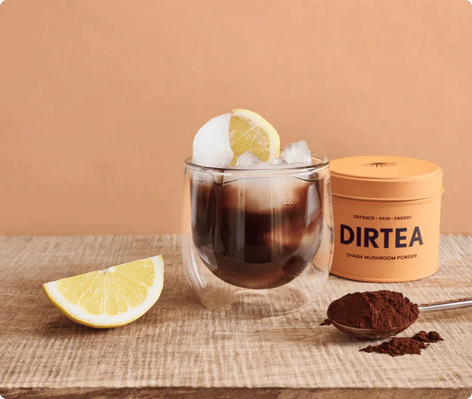 Embrace Flexible Wellness
Add Turkey Tail to your daily wellness routine for immune support, incorporate Tremella into your beauty regimen, and use the Coffee blend to replace your regular morning coffee while enjoying additional health benefits. This variety ensures you can introduce these superfoods into your routine in a way that suits your preferences and lifestyle.
How To Prepare The DIRTEA Mushroom Powder
Follow these easy steps to kickstart your day
Step 1
Add 2g to a cup
Step 2
Pour in hot water & stir well
Step 3
Add your favourite milk, if desired
Step 4
Or add to coffee, shakes or smoothies
Or get creative
Add 2g of the DIRTEA mushroom powder to your coffee, matcha, chocolate drink or shake.
Quality Crafted with care for your peace of mind
Get a glimpseof the DIRTEA production journey
Organic mushrooms
We exclusively use organically-grown mushrooms in our powders, ensuring that you're fueling your body with pure, pesticide-free ingredients directly harvested from nature.
Dual Extraction
We extract both the water-soluble components (polysaccharides) and alcohol-soluble components (triterpenoids), offering you the full spectrum of benefits of each mushroom.
Third Party Tested
Each DIRTEA product batch is third-party tested for quality and purity, guaranteeing that you're getting exactly what you see on the label - nothing less, nothing more.
Our Happy Customers Say It Best
Check out the positive impact of DIRTEA
Rated 4.9 based on 6,000+ reviews from coffee lovers
Ask Us Anything
Learn more about DIRTEA
What are functional mushrooms?
What is the best way to drink DIRTEA?
When is the best time to consume DIRTEA?
How many mushrooms can I drink?
Can I combine your products?
How long does DIRTEA take to feel the effect?
Are your mushrooms psychoactive?